February 08, 2009
Irv's Luggage Has Valentine's Day Luggage Deals You'll Love
Irv's Luggage announces huge price breaks on top luggage brands, including a rare Briggs & Riley sale, Travelpro closeouts, and an exclusive deal on Timberland Luggage R-73 Essentials Collection. Irv's Luggage also has exclusive Valentine's Day deals on handbags.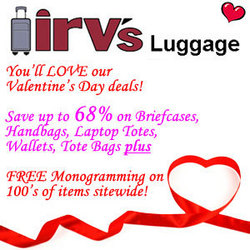 Irv's Luggage SALE
Briggs & Riley offers some of the smartest, most well-designed luggage on the market. They rarely break price or allow dealers to break price, however, so when they do, it's worth noting. Currently, select Briggs & Riley bags are available for up to 50% off. The sale includes Superlight and Expandable uprights, garment bags, messenger bags, totes, and briefcases. Discontinued items from the Baseline collection are also available at 30% off.
Travelpro Luggage is well-known for contemporary styling and innovative design. Right now, Irv's Luggage is offering Travelpro closeouts at up to 76% off retail pricing. The closeout sale includes items from the Platinum, Flightpro, Hydrogen, and WalkAbout collections, including uprights, totes, suiters, and garment bags.
The Timberland Luggage R73 Essentials Collection boasts durable bags crafted of 1682D Ballistic nylon with PVC backing. The wheeled bags feature in-line skate wheels that have an off-road tread to allow easy transport over any terrain. Right now, Irv's Luggage is the only luggage retailer carrying these bags, so the exclusive deal is even sweeter.
With Valentine's Day fast approaching, Irv's Luggage offers price breaks on great gift ideas, including handbags from Dooney & Bourke, Tano, and Harvey's Seatbelt Bags.
Dooney & Bourke has been wooing women for more than 25 years with beautiful handbags and elegant accessories. Irv's Luggage has a special Valentine's Day Sale on Dooney & Bourke stock, for a limited time only. Prices have also been reduced on Tano handbags. Like Dooney & Bourke, Tano makes handbags to fall in love with, each crafted of quality leather in chic styles and colors. Harvey's Seatbelt Bags offer a different kind of handbag for a different kind of girl. Made completely out of seatbelt material, these handbags use no leathers or animal products. They do come in many colors and styles, however, and are quality constructed, and surprisingly elegant. All Dooney & Bourke, Tano, and Harvey's Seatbelt Bags are currently being offered at 20% to 30% off, just in time for Valentine's Day gift giving.
About Irv's Luggage
As a family-owned business since 1947, Irv's Luggage and its parent company, Emporium Luggage, own and operate three retail stores in Chicago and the surrounding suburbs as well as a website,
www.IrvsLuggage.com
. We are an authorized luggage dealer of the industry's biggest brands, including
Tumi Luggage
,
Samsonite Luggage
,
The North Face
, and
Victorinox Swiss Army
, among others.
Irv's Luggage repair center, housed in our Mt Prospect location, is the largest in the Midwest. We have been designated as the repair and warranty center by all major luggage manufacturers as well as by every major air carrier to repair airline damage.
We strive to create the best shopping atmosphere for our customers whether they are shopping in one of our three retail locations or on our website, www.IrvsLuggage.com.
---
<< SEE ALL PRESS RELEASES